General Recommended Reading List

0 items

The following titles are suggested as basic reference texts. Specific reading for lectures and supporting Study Smarter resources are listed in the online Module Handbook.

Study skills for criminology - Harrison, John c20121849207933,1849207941,9781849207935,9781849207942

Book Core Recommended for student purchase

Criminal justice - Sanders, Andrew, Young, Richard, Burton, Mandy c20100199541310,9780199541317

Book Core This is an essential core text - highly recommended for purchase

The Oxford handbook of criminology - Maguire, Mike, Morgan, Rodney, Reiner, Robert 20120199590273,9780199590278

Book Core In particular read: Sanders, A Young, R (2012) From Suspect to Trial. (Chapter 29)

UCLan (2009) 'Student Record of Employability Skills and Action Plan' (On Blackboard)

Core Webpages and Websites

5 items

Criminology - Hale, Chris 20090199227292,9780199227297

Book Further Chapts 22, 24, 25 are useful for basic introduction

Criminology - Tim Newburn 2017

Book Further electronic resource

Criminology - Tim Newburn 20179781138643130

Book Further Chapts 23, 25, 26 & 27, useful for introductory overview

Recommended Referencing guides

1 item

Webpages and Websites

2 items

Additional sources for the criminal justice agencies/organisations can be found on Blackboard and via the Minisrty of Justice website.

Creative Commons Attribution-NonCommercial-ShareAlike 3.0 Licence
Profile Required
Reading intentions and notes are stored against your user profile. Please create a profile to use this feature.
My notes
You must be logged in to add a note
What are item notes?
You can use item notes to make personal notes on any of your reading items. Notes are private to you and will not be shown to other users.
You can review your item notes from the list, the item page or from your profile page.
---
How do I create an item note?
To make notes, first you must be logged in. Once logged in, simply click Add note? next to the list item you wish to make notes on. You can also make notes at the bottom of every item's detail page.
Your note will be saved automatically as you type.
Have you read this?
You must be logged in to set a reading intention
What are reading intentions?
Setting up reading intentions help you organise your course reading. It makes it easy to scan through your lists and keep track of progress. Here's an example of what they look like: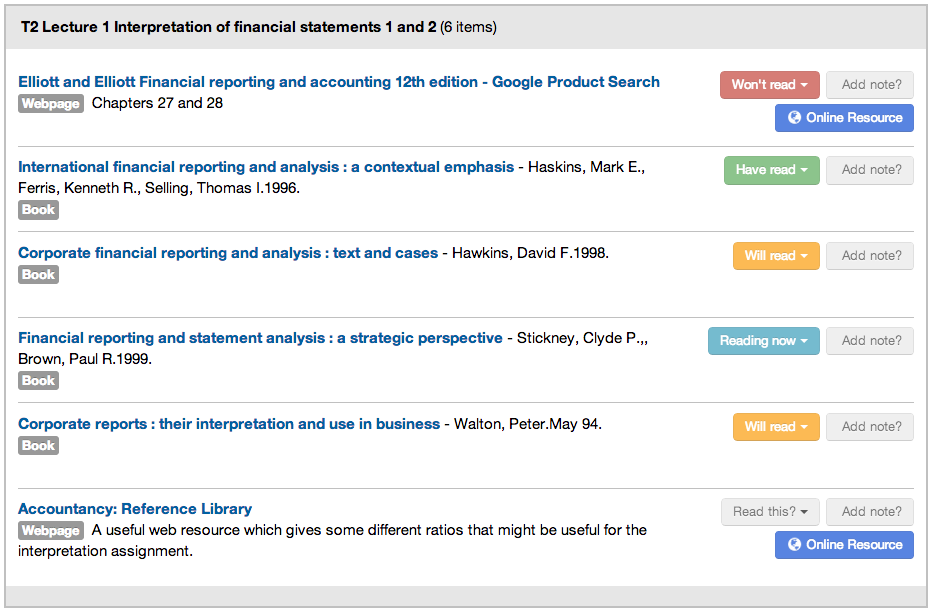 Your reading intentions are also stored in your profile for future reference.
---
How do I set a reading intention
To set a reading intention, first you must be logged in. Once logged in, click Read this? next to the list item you wish to set a reading intention for.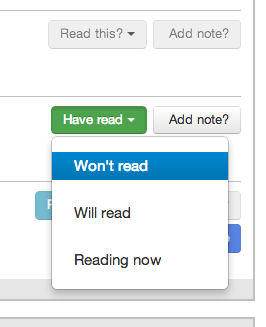 You can also set the reading intention from every item's detail page.