This list relates to the period 2018/19 which ended on 31/08/2019
This list has been archived
Website Sector Skills Council website containing information on current research and industry developments. "With support from our Skills Academy network we deliver programmes designed to improve the provision of skills and training in the creative and cultural industries"

Incorporated Society of Musicians

Website The Incorporated Society of Musicians is the UK's professional body for musicians.Subject organisation for music teachers, website has research, sector developments and information for music teachers

Music Mark | Leaders in High Quality Music Education

Website Music Mark is the subject association for music education, representing and supporting Music Services and over 12,000 instrumental and classroom music teachers, tutors, consultants, advisers, inspectors and lecturers in Initial Teacher Education. Music Mark advises governmental and non-governmental departments on all matters relating to music education.

Creative Skillset - Supporting Creative Industries

Website SSC website: Creative Skillset empowers the Creative Industries to develop skills and talent; we do this by influencing and shaping policy, ensuring quality and by securing the vital investment for individuals to become the best in their field and for businesses to grow. As the industry skills body for the Creative Industries, we work across film, television, radio, fashion, animation, games, visual effects, textiles, publishing, advertising,

Website The mission of Computing At School is to provide leadership and strategic guidance to all those involved in Computing education in schools, with a significant but not exclusive focus on the Computer Science theme within the wider Computing curriculum.

Website As a professional association, we represent the voice of the UK education technology community in the schools sector at a national and international level, as well as supporting one another across the sector through conferences, courses and the dissemination of resources, research and reflection.

Website The Tech Partnership is a growing network of employers creating the skills for the digital economy. We work to inspire young people about technology, accelerate the flow of talented people from all backgrounds into technology careers and help companies develop the technology skills they need for the future.

Apprenticeships, Standards and Qualifications - Skills CFA

Website Skills CFA is a registered charity promoting skills and qualifications in the workplace. Since 1996 we have successfully developed standards, apprenticeships and training programmes across the UK for a whole range of business skills.

Webpage Improve is the Skills Council for the UK's Food & Drink Manufacturing and Processing Sector. We provide a strategic skills overview for the Food & Drink Manufacturing Sector to help increase performance, growth and productivity. We identify which skills are needed

Website SkillsActive provides employers, training providers, individuals, policy makers and key organisations with consultancy, information and advice on skills development and training.

Construction Industry Training Board - CITB

Website We are the Industry Training Board and a partner in the Sector Skills Council for the construction industry in England, Scotland and Wales. It's our job to work with industry to encourage training, which helps build a safe, professional and fully qualified workforce

Website We're an employer-led membership organisation that helps ensure the gas, power, waste management and water industries have the skills they need - now and in the future.

ECITB | Engineering Construction Industry Training Board

Website The Engineering Construction Industry Training Board (ECITB) is the statutory organisation, national training provider and awarding body with responsibility for the training and development of the UK's engineering construction workforce.

Skills for Care and Development

Webpage Skills for Care & Development (SfC&D) is the sector skills council for people working in early years, children and young people's services, and those working in social work and social care for adults and children in the UK. That is a workforce of over 1.87 million people

Website Lantra Awards supports both individuals and companies to achieve personal and business growth.

Website Skills for Justice (including all our delivery brands: Skills for Fire & Rescue, Skills for Armed Forces, Skills for Local Government and Skills for Law) is an impartial, employer-led organisation which takes its lead from the needs of employers from the sectors in which we work.

Association for Physical Education

Website The Association for Physical Education (afPE) is the only physical education subject association in the UK. We are committed to being the representative organisation of choice for people and organisations delivering or supporting the delivery of physical education in schools and in the wider community.

Website The National Association for the Teaching of English works to: • Promote standards of excellence in the teaching of English from Early Years to University • Promote innovative and original ideas that have practical classroom outcomes

The Institute of the Motor Industry

Website Today the IMI sets standards for training throughout the sector, offers 250 qualifications through 600 training providers around the UK, promotes automotive job opportunities to young people, and campaigns for greater recognition for professionals in the motor industry

Website Nasen is the UK's leading organisation supporting those who work with or care for children and young people with special and additional educational needs and disabilities. We support all staff including SENCO's, leaders, teachers, governors and teaching assistants in meeting the needs of the pupils in schools and settings through promoting education, training, development and support. Nasen are an invaluable source of advice, offering an exclusive and vital range of benefits

Website NATECLA (National Association for Teaching English and other Community Languages to Adults) is the national forum and professional organisation for ESOL teachers and runs training events and networks for ESOL teachers.

Website NALDIC is the national subject association for English as an additional language (EAL) in the school sector. Our mission is to promote the effective teaching and learning of EAL and bilingual pupils in UK schools. We provide a welcoming, professional forum to learn more about EAL and bilingual learners.

Webpage The JMC is a council of participating and observing societies formed in 1963 to promote communication between the societies and to promote mathematics and the improvement of the teaching of mathematics at all levels.

Website A website with guides on how to teach aspects of hairdressing mapped to NVQ specifications. There are lots of video resources.

Creative Commons Attribution-NonCommercial-ShareAlike 3.0 Licence
Profile Required
Reading intentions and notes are stored against your user profile. Please create a profile to use this feature.
My notes
You must be logged in to add a note
What are item notes?
You can use item notes to make personal notes on any of your reading items. Notes are private to you and will not be shown to other users.
You can review your item notes from the list, the item page or from your profile page.
---
How do I create an item note?
To make notes, first you must be logged in. Once logged in, simply click Add note? next to the list item you wish to make notes on. You can also make notes at the bottom of every item's detail page.
Your note will be saved automatically as you type.
Have you read this?
You must be logged in to set a reading intention
What are reading intentions?
Setting up reading intentions help you organise your course reading. It makes it easy to scan through your lists and keep track of progress. Here's an example of what they look like: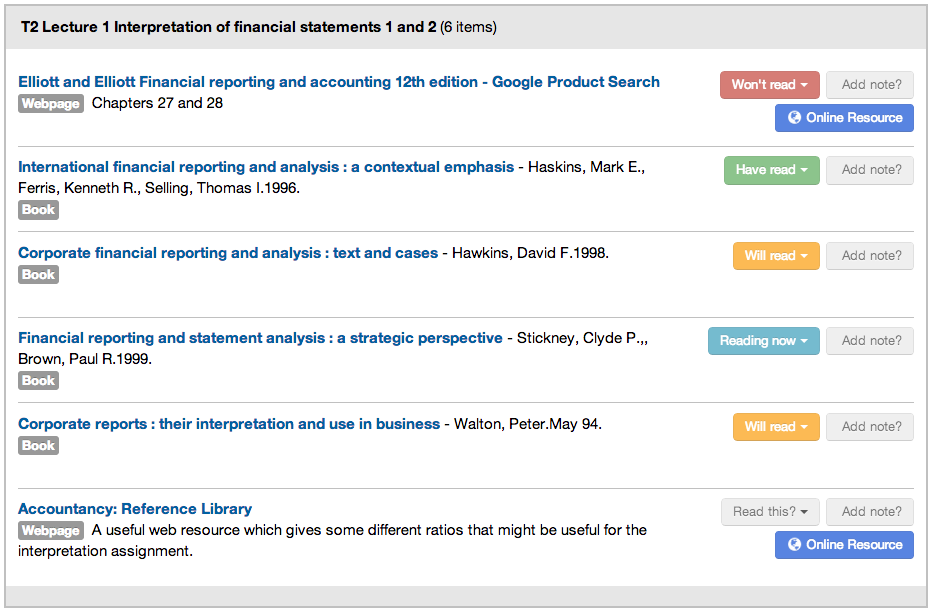 Your reading intentions are also stored in your profile for future reference.
---
How do I set a reading intention
To set a reading intention, first you must be logged in. Once logged in, click Read this? next to the list item you wish to set a reading intention for.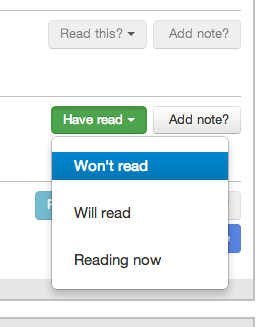 You can also set the reading intention from every item's detail page.