Social research methods - Alan Bryman 20169780199689453

Book Core This book provides a very comprehnesive guide to developing and undertaking research in Social Science, including the fundamentals of survey and focus group design

How to do your dissertation in geography and related disciplines - A. J. Parsons, Peter Knight 2015

Book Core This book provides an excellent introduction to undertaking a dissertation in geography. It is reccomended that students purchase this book, however several copies are also available in the Resources Room in Kirkham Building (KM 125)

Supplementary Texts

16 items

Literature Searching for your Dissertation: Improve your skills

If you've managed so far, but feel sure you could be more focussed and efficient, this is for you.We will cover researching skills at an intermediate level, including selecting the right keywords and using Boolean logic.

Advanced Literature Searching for your Dissertation: Extra Techniques

If you are satisfied with your searching skills, but are still struggling to find the research you need, you may benefit from some extra techniques.In this session, you will learn how to search using Thesaurus Terms and MeSH headings. We'll also look at Citation Searching, and using the Search History.

RefWorks: Getting started

Have you heard of RefWorks?It's a software package that allows you to collect and manage all your references in one place.But that's not all – it will format the references into your choice of referencing styles (Harvard, for example) and produce a Bibliography. It can save all those hours typing up references.Learn how to use it now!

Further details, dates and times are available from the Study Smarter pages

There are a number of additional dissertation and research method text books in the main library - please consult the library catalogue.

The resources room in Kirkham Building (KM125) holds copies of previous undergraduate dissertations ig Geography, Environmental Management and Hazards. Dissertations can be signed out via the technician.

Creative Commons Attribution-NonCommercial-ShareAlike 3.0 Licence
Profile Required
Reading intentions and notes are stored against your user profile. Please create a profile to use this feature.
My notes
You must be logged in to add a note
What are item notes?
You can use item notes to make personal notes on any of your reading items. Notes are private to you and will not be shown to other users.
You can review your item notes from the list, the item page or from your profile page.
---
How do I create an item note?
To make notes, first you must be logged in. Once logged in, simply click Add note? next to the list item you wish to make notes on. You can also make notes at the bottom of every item's detail page.
Your note will be saved automatically as you type.
Have you read this?
You must be logged in to set a reading intention
What are reading intentions?
Setting up reading intentions help you organise your course reading. It makes it easy to scan through your lists and keep track of progress. Here's an example of what they look like: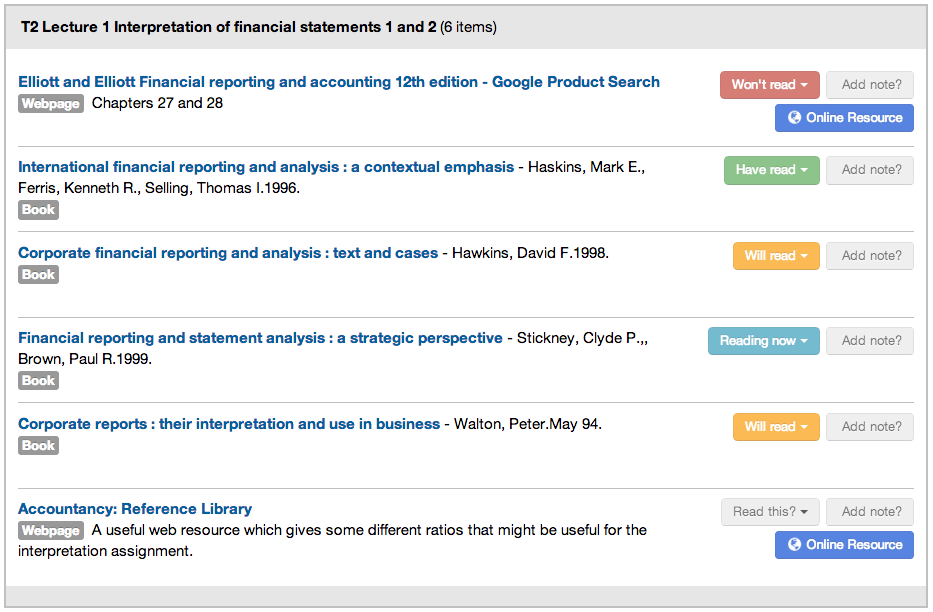 Your reading intentions are also stored in your profile for future reference.
---
How do I set a reading intention
To set a reading intention, first you must be logged in. Once logged in, click Read this? next to the list item you wish to set a reading intention for.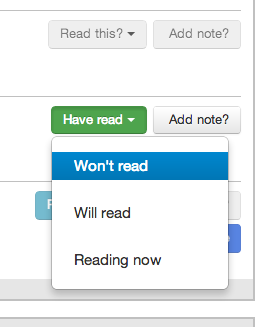 You can also set the reading intention from every item's detail page.