This list has been archived
Writing and grammar

7 items

Books on storytelling

7 items

Fun Reads and Christmas Present Options

14 items

Information is beautiful - David McCandless 20090007294662,9780007294664

Book A really beautiful book, it's better than the sequel, Knowledge is Beautiful

The help - Kathryn Stockett 20109780141039282

Book A great novel, based on an ambitious young local newspaper columnist evolving into a civil rights campaigner.

Sit down and cheer - Martin Kelner 20139781408158746

Book A history of sport on TV, funny and insightful.

The meaning of sport / Simon Barnes - Simon Barnes 20079781904977858

Book The award winning chief sports writer for the Times asks questions about sport that no-one has ever asked.

Sportographica - Martin Toseland, Simon Toseland 20149781782061403,9781623651626

Book Another beautiful book that redefines the use of statistics in sports journalism.

It's worth checking in with a couple of good news sites every day. Vary your choices to get and idea of different styles. Don't just stick to British sites! it's interesting to see what the rest of the world thinks of issues and how they report big stories.

Creative Commons Attribution-NonCommercial-ShareAlike 3.0 Licence
Profile Required
Reading intentions and notes are stored against your user profile. Please create a profile to use this feature.
My notes
You must be logged in to add a note
What are item notes?
You can use item notes to make personal notes on any of your reading items. Notes are private to you and will not be shown to other users.
You can review your item notes from the list, the item page or from your profile page.
---
How do I create an item note?
To make notes, first you must be logged in. Once logged in, simply click Add note? next to the list item you wish to make notes on. You can also make notes at the bottom of every item's detail page.
Your note will be saved automatically as you type.
Have you read this?
You must be logged in to set a reading intention
What are reading intentions?
Setting up reading intentions help you organise your course reading. It makes it easy to scan through your lists and keep track of progress. Here's an example of what they look like: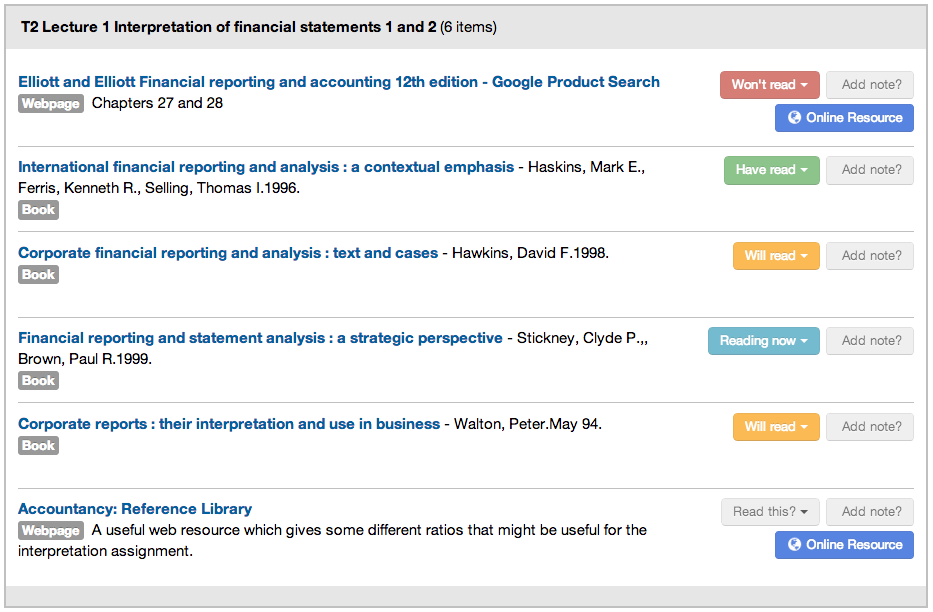 Your reading intentions are also stored in your profile for future reference.
---
How do I set a reading intention
To set a reading intention, first you must be logged in. Once logged in, click Read this? next to the list item you wish to set a reading intention for.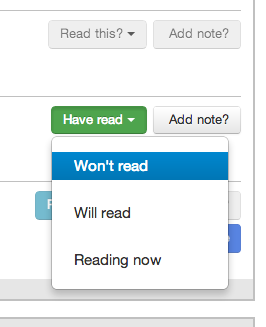 You can also set the reading intention from every item's detail page.