HR3030 Human Resource Management In Multi-National Organisations
2018/19
Archived
This list relates to the period 2018/19 which ended on 31/08/2019
This list has been archived
Useful texts to expand your thinking and understanding

Global staffing - Hugh Scullion, David G. Collings c2006 (electronic resource)

Book Further

HRM in global firms - Pucik, Vladimir, Beechler, Schon, Evans, Paul 20040415316286,0415316294

Book Further

These texts may be of interest to develop your awareness of specif issues

Seminar reading material

4 items

HR3030 Assignment 2 reading suggestions

17 items

I've curated some journal articles to help you start your thinking of the issues to explore in your final assignment.

Journal What is the difference between an Equality approach and a Diversity approach to the human resource?

High potential programs and employee outcomes - Amina Raza Malik, Parbudyal Singh, Christopher Chan 13/11/2017

Article Following on from our look at career management programmes this paper has researched into the impact of certain initiatives on employee engagement and might provide some helpful suggestions/ recommendations for practice

Ambition at work and career satisfaction - Sabrine El Baroudi, Chen Fleisher, Svetlana N. Khapova, Paul Jansen 13/02/2017

Article We talked about 'protean careers' - with the emphasis on the employee being proactive about the direction of their career journey - this paper explores this.

Creative Commons Attribution-NonCommercial-ShareAlike 3.0 Licence
Profile Required
Reading intentions and notes are stored against your user profile. Please create a profile to use this feature.
My notes
You must be logged in to add a note
What are item notes?
You can use item notes to make personal notes on any of your reading items. Notes are private to you and will not be shown to other users.
You can review your item notes from the list, the item page or from your profile page.
---
How do I create an item note?
To make notes, first you must be logged in. Once logged in, simply click Add note? next to the list item you wish to make notes on. You can also make notes at the bottom of every item's detail page.
Your note will be saved automatically as you type.
Have you read this?
You must be logged in to set a reading intention
What are reading intentions?
Setting up reading intentions help you organise your course reading. It makes it easy to scan through your lists and keep track of progress. Here's an example of what they look like: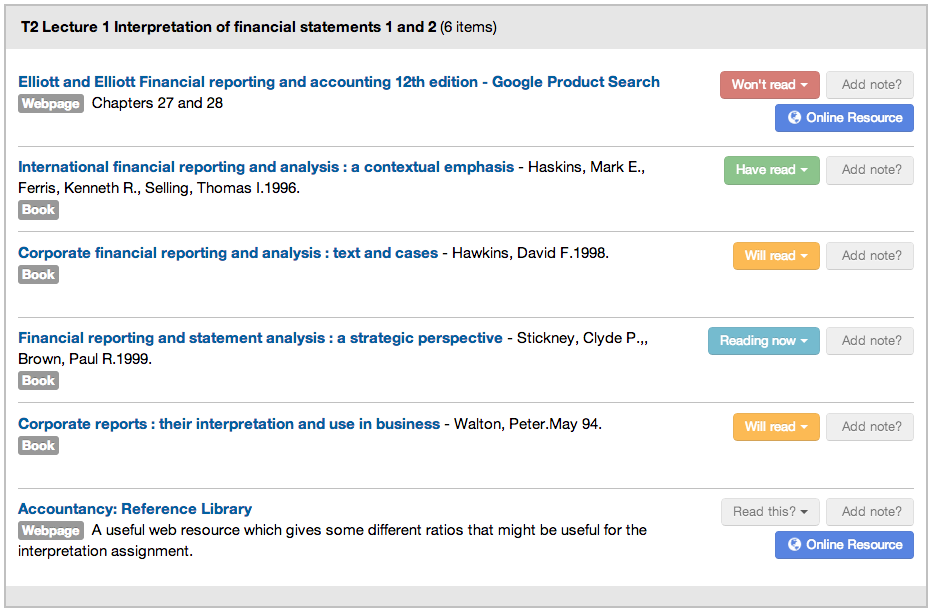 Your reading intentions are also stored in your profile for future reference.
---
How do I set a reading intention
To set a reading intention, first you must be logged in. Once logged in, click Read this? next to the list item you wish to set a reading intention for.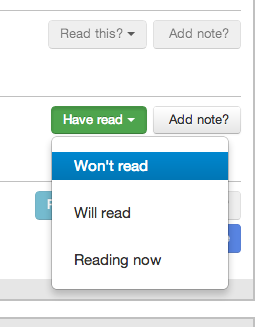 You can also set the reading intention from every item's detail page.