HY3061 Chartism
2018/19
Material on the Chartist movement of the 1830s, 40s and 50s - a selection from an enormous literature.
Introductory items, in addition to sections in the textbooks in the 'General and core reading' list (Hilton, Wright, Rule et. al.)

Early Victorian Britain, 1832-51 - J. F. C. Harrison, J. F. C. Harrison 20080007291701,9780007291700

Book Optional Chapter 6 includes an introduction to Chartism

Modern Britain: a social history, 1750-2011 - Edward Royle 20121849665303,1849665699,9781849665308,9781849665698

Book Optional A general history with good material on Chartism and gender and class among its core themes

Essays and articles

8 items

Digitised resources

2 items

Rethinking Chartism - Gareth Stedman Jones

Article Core A classic essay, digitisation available via ONLINE link; also available in a shorter form in 'The Chartist Experience' ed. Thompson and Epstein.

Labour History Review | Special Issue on Chartism 2009

Journal Further Available ONLINE: A special issue on Chartism with several good articles, including the edutors on 'New directions in Chartist studies' and Robert Hall on Chartism in everyday life. [You may need to log in using your usual UCLan details to access this material]

Specialist books

19 items

Note that some of the best material is in the edited collections of essays, particularly Roberts's 'The People's Charter'.

London Chartism, 1838-1848 - David Goodway 20029780521893640

Book Further A monograph on London, the initial centre but not the stronghold of Chartism.

Chartist studies - Asa Briggs 1959

Book Further A set of essays on individual local and regional Chartist movements. Useful case studies for essays.

The condition of the working class in England - Friedrich Engels, David McLellan 20090199555885,9780199555888

Book Further Several editions, and available online. The chapter on 'Labour movements' claims Chartism for class struggle.

Creative Commons Attribution-NonCommercial-ShareAlike 3.0 Licence
Profile Required
Reading intentions and notes are stored against your user profile. Please create a profile to use this feature.
My notes
You must be logged in to add a note
What are item notes?
You can use item notes to make personal notes on any of your reading items. Notes are private to you and will not be shown to other users.
You can review your item notes from the list, the item page or from your profile page.
---
How do I create an item note?
To make notes, first you must be logged in. Once logged in, simply click Add note? next to the list item you wish to make notes on. You can also make notes at the bottom of every item's detail page.
Your note will be saved automatically as you type.
Have you read this?
You must be logged in to set a reading intention
What are reading intentions?
Setting up reading intentions help you organise your course reading. It makes it easy to scan through your lists and keep track of progress. Here's an example of what they look like: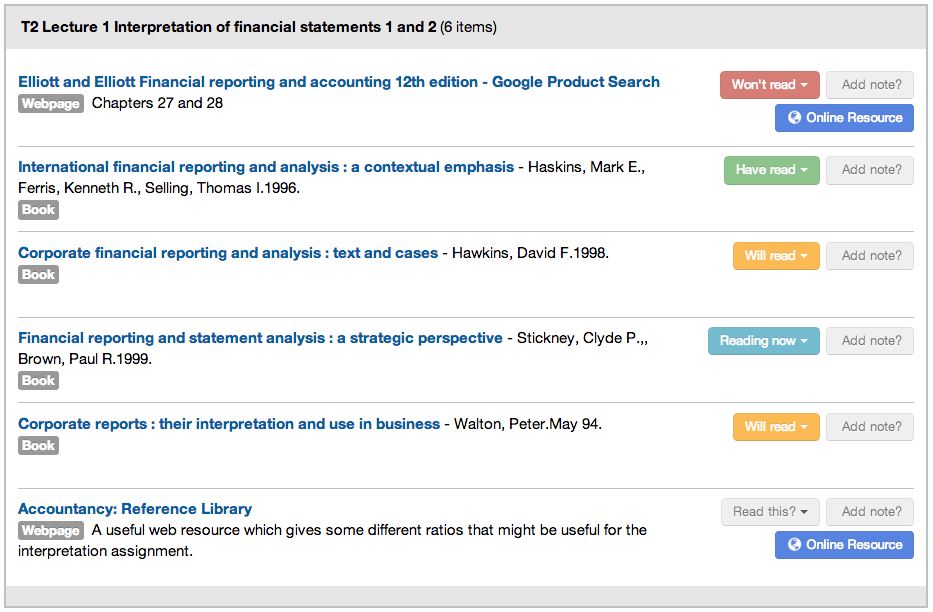 Your reading intentions are also stored in your profile for future reference.
---
How do I set a reading intention
To set a reading intention, first you must be logged in. Once logged in, click Read this? next to the list item you wish to set a reading intention for.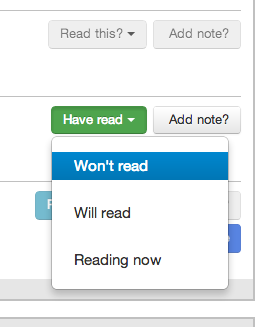 You can also set the reading intention from every item's detail page.